ISS recently published its U.S. Equity Plan Frequently Asked Questions (FAQs) and Compensation Policy FAQs. There are no significant changes from the prior release of preliminary FAQs and policy updates that were issued in November.
Notably, the Equity Plan FAQs:
Include the updated 2020 burn rate thresholds in the appendix.
Confirm the expectation that certain factor scores under the Equity Plan Scorecard have been adjusted, but threshold points to receive a favorable ISS recommendation (absent overriding/egregious factors, including the new override for automatic share replenishment ("evergreen") provisions), as well as the maximum potential points, remain unchanged.
Clarify that limited partnership interests, including operating partnership units issued by Real Estate Investment Trusts (REITs), are included in common shares outstanding for purposes of shareholder value transfer and burn rate calculations if they are equivalent to common stock on a 1:1 basis and can be exchanged into common stock at any time at no cost to the holder.
The Compensation Policy FAQs further address the following:
In discussing the change from GAAP metrics to EVA in its secondary Financial Performance Assessment (FPA) test, ISS notes that the FPA screen will not apply to REITs. In addition, EVA calculations will exclude financial periods in which a company's revenue or capital is below $5 million, which may result in these companies being excluded from the FPA due to lack of sufficient data.
As previously reported, ISS may issue adverse vote recommendations for board members responsible for approving/setting non-employee director (NED) pay when there is a recurring pattern of excessive pay magnitude without disclosure of compelling rationale in two or more consecutive years. The potential for adverse recommendations under this policy will begin with meetings occurring on or after February 1, 2020 (i.e., for companies where ISS has identified excessive NED pay without a compelling rationale disclosed in both 2019 and 2020). Following a quantitative identification of an outlier, a qualitative evaluation of disclosure will determine if concerns are adequately mitigated. The FAQs provide examples of circumstances that would, and would not, typically mitigate ISS' concern around high NED pay.
Situations that are likely to mitigate ISS' concerns include one-time onboarding grants for new directors; payments related to corporate transactions or special circumstances; or payments made in consideration of specialized scientific expertise.
Payments made to reward general performance/service; payments made under separate consulting/service agreements that have an indefinite/prolonged term or appear to be within the scope of routine director responsibilities; or problematic payments such as performance-conditioned incentive pay, perquisites, or retirement benefits were listed as examples of circumstances that would not alleviate ISS' concerns.
As previously reported, a new three-year Multiple of Median (MOM) will show CEO average pay over the last three years compared to CEO peers, and the CEO's three-year cumulative pay total. The three-year MOM will

not

be part of the quantitative screen methodology and will be displayed for informational purposes only. The FAQs further state that the results may inform ISS' qualitative evaluation.
ISS provides more color on its evaluation around terminations and severance payments. Specifically, the FAQs state that companies should identify in applicable disclosures the type of termination (e.g. termination without cause or resignation for good reason) and the provision by which severance payments were made under the agreement (noting that severance is not appropriate for executives that voluntarily resign or retire).
The FAQs contain other minor updates (e.g., ISS explains why it uses the full option term for valuation purposes).
The 2020 Equity Compensation FAQs can be found here and the 2020 Compensation FAQ can be found here. The Pay-for-Performance Mechanics technical document, which includes details on the use of EVA in the FPA analysis, and can be found here.
2020 Burn Rate Tables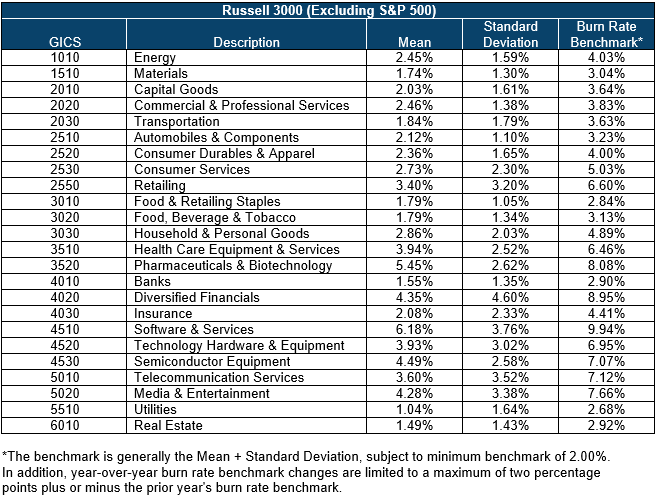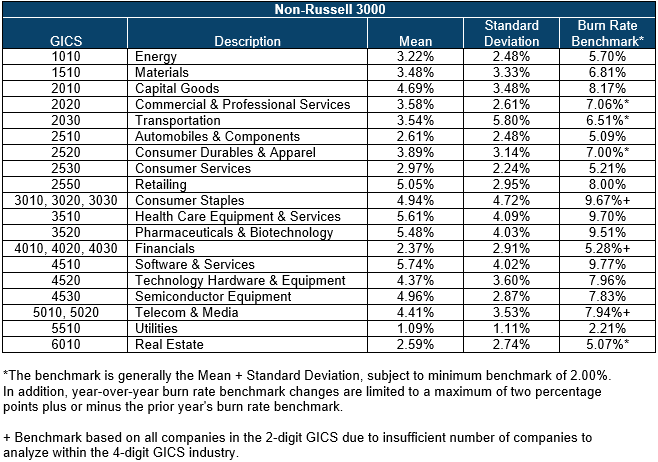 ---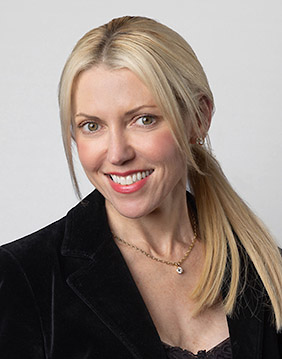 Samantha Nussbaum
Principal
Samantha Nussbaum has consulted on behalf of public and private companies, compensation committees, and senior management on all aspects of executive compensation. Samantha's consulting and legal background includes advising on executive compensation in the context of mergers and acquisitions, spin-offs, and initial public offerings; executive employment, severance, and change in control agreements; equity incentive plans; deferred compensation; and securities laws, including reporting and disclosure implications.
---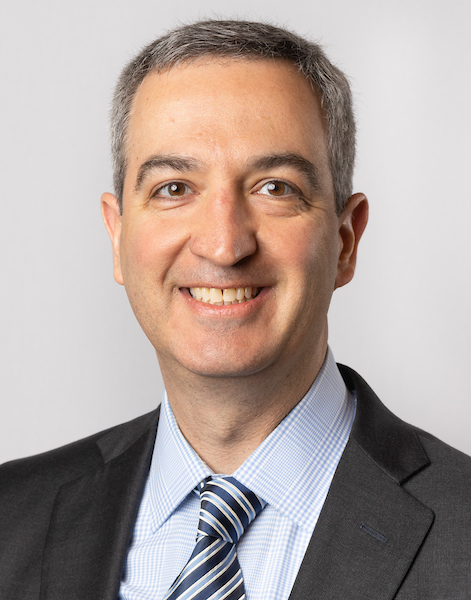 Joe Sorrentino
Principal
Joe Sorrentino has over 20 years of executive compensation consulting experience. His client assignments have been with both public and privately-held companies in industries including: chemicals, consumer products, financial services, health care, manufacturing, pharmaceuticals, real estate/REITS and utilities. His consulting engagements often focus on the development of executive compensation strategy, design of annual and long-term incentive programs, and ISS equity plan modeling, compensation and governance policies.
---