Major GICS Structure Changes Could Impact Peer Group Construction
By Cimi Silverberg, Managing Director & Head of Chicago Office
Share
---
Effective September 28, 2018, S&P Dow Jones Indices and MSCI, Inc. will implement major changes to their Global Industry Classification Standard ("GICS") structure that will primarily impact media and technology companies. While such changes may have implications for the development of comparative peer groups used by companies in competitive analyses of pay levels and practices, they are likely to have a more significant impact on the peer groups developed by proxy advisors such as Institutional Shareholder Services ("ISS"), which are a key factor in their vote recommendations on executive compensation issues.
Developed by S&P Dow Jones and MSCI, the GICS structure categorizes all public companies into a hierarchy of Sectors (2-digit code), Industry Groups (4-digit code), Industries (6-digit code), and Sub-Industries (8-digit code) based on each company's primary business activity. The GICS structure is frequently used to analyze industry performance and trends, develop peer groups and benchmarks, and construct market indices.
Major changes include:
The Telecommunications Services (50) sector will be renamed Communication Services.

Internet service providers offering internet access to end users will now be classified under the Telecommunication Services (5010) group within the new Communication Services (50) sector.

The Media (2540) industry group will move from the Consumer Discretionary (25) sector to the Communication Services (50) sector and will be renamed Media & Entertainment (5020).

Online entertainment streaming companies and companies producing interactive home entertainment content will be classified in the new Entertainment (502020) industry. The Home Entertainment Software (45103030) sub-industry will be discontinued.

Interactive Media & Services (502030) will be a new industry within the Media (2540) industry group and will include companies that create or distribute content and information through proprietary platforms, where revenues are derived primarily through pay-per-click advertisements, such as search engines, social media and networking platforms, online classifieds, and online review companies.

The Internet Software & Services (451010) industry and sub-industry will be discontinued.

E-commerce companies will be categorized in the Internet & Direct Marketing Retail (255020) industry regardless of whether they hold inventory.

Internet Services & Infrastructure (45102030) will be a new sub-industry under the IT services (451020) industry, which will include companies that provide data centers, cloud networking and storage infrastructure, and web-hosting services.

The Application Software (45103010) sub-industry will include cloud-based software companies.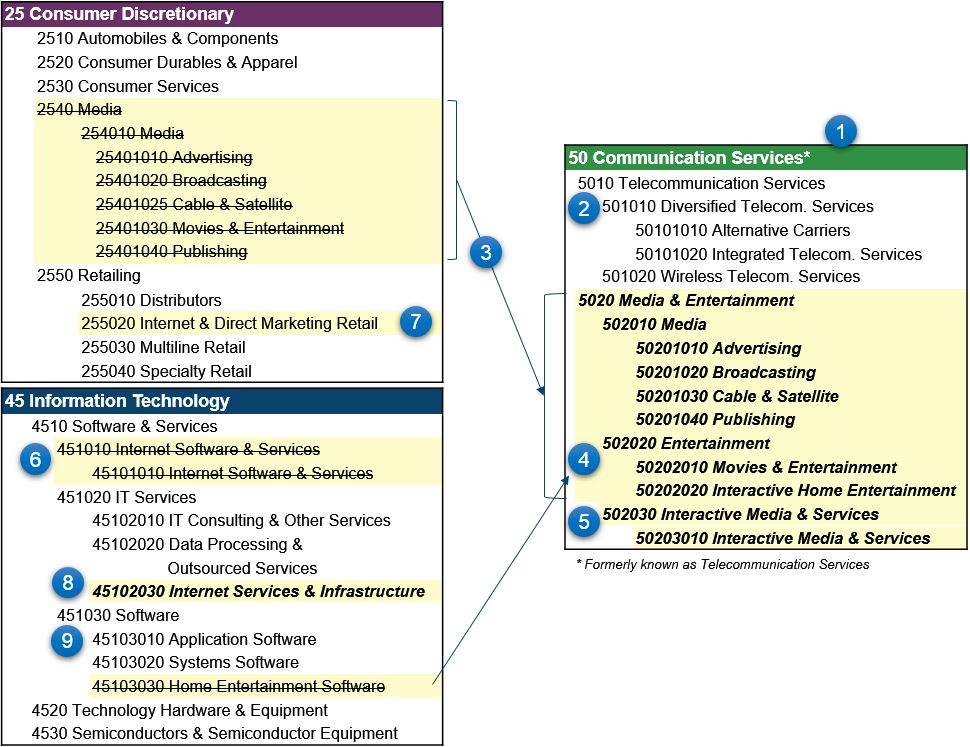 Download the diagram here.
Changes to the GICS structure could influence companies to adjust their internally-developed peer frames used for competitive comparisons of pay practices and performance, as a change to industry category could introduce new candidates for consideration. However, most companies already identify the most appropriate peers, regardless of GICS code, based on multiple qualitative and quantitative factors.
Greater consequences are likely for peer groups developed by ISS. Because ISS' algorithms for developing comparison groups use the GICS hierarchy as a foundation, changes to the GICS structure could impact a given company's:
Relative pay rank and performance versus ISS-selected peers in the CEO pay-for-performance analysis, which is a key input to their Say-on-Pay evaluation framework;
Burn rate limit (which is based on index and industry) and allowable caps (which are based on market cap, industry, and relative performance), for new share reserve requests within ISS' Equity Plan Scorecard model; and
Level of director compensation which ISS would consider "excessive," which is based on director compensation within the "same index and industry."
---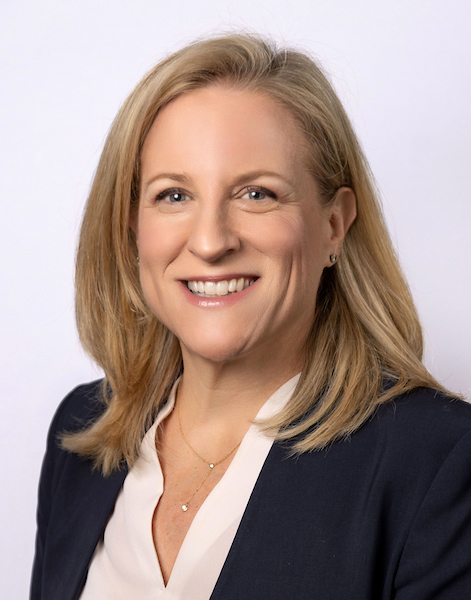 Cimi Silverberg
Managing Director & Head of Chicago Office
Cimi Silverberg has twenty-two years of consulting experience, nineteen focusing solely on executive compensation. Cimi's clients include both public and private organizations in a variety of industries and company size categories. She is a frequent writer and speaker on the topic of executive compensation and a strong contributor to the firm's technical papers and studies.
---