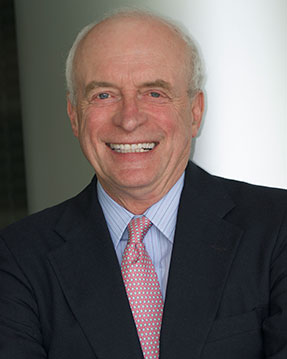 Frederic W. Cook
Founder
1940-2018

Frederic W. Cook was an iconic leader and pioneer in the field of executive compensation consulting. He established Frederic W. Cook & Company in 1973 as an independent consultancy with executive compensation consulting as its sole focus. By the time he retired in 2013 the firm had seven offices with over 80 employees advising many of the largest and most successful businesses in the world. The firm's market share of the Fortune 1000 and S&P 500 is unmatched.
From the very beginning, it was Fred's plan to create a firm that would succeed him by recruiting quality people and fostering a positive culture. Central to the success of this concept is consultant ownership and management of the firm. His passion was getting people to think about what was meaningful to them, and then developing structures and incentives to motivate them towards achieving a vision that benefited future generations.
Fred was known as an innovator and an industry leader. He was an early advocate and creative thinker on the topic of executive and manager stock ownership, with a firm belief that having "skin in the game" with investors would drive long-term performance. His contributions have been recognized with an Honorary Life Membership in the American Compensation Association (now World at Work), as a Fellow in the National Academy of Human Resources, and with a World at Work Keystone Award.
In addition to his business accomplishments, Fred was a member of the Defense Department¹s Business Board from 2002 to 2013, and an avid Board Member of the Hudson Valley Shakespeare Festival from 2013 to 2018.
Fred passed away in early 2018 but his spirit lives within the firm in the culture that exists and the strong, principles-based manner in which we approach our work and engagement with clients and colleagues.